Description
In Perfect Working Condition Out of the box assembled

30-day Free iFit trial Membership Included
Model Year: 2021
22″ Smart HD Touchscreen Display with SmartSwivel™
Upright Frame with High-Quality Solid Steel Construction
24 Digital Levels of MAGNETIC Resistance
Multi-Position, Adjustable Handlebars
Pedals: Standard Straps
Inertia-Enhanced Flywheel
Audio Auxiliary Port
Water Bottle Holder

Dumbbells not included

Front-Mounted Transport Wheels
Adjustable Leveling Feet
Foot Print: 21.9" Width x 56.5" Depth x 54" Height
The unit comes fully assembled and ready to use
Warranty: 90 days labor, 3 years parts (does not cover normal wear and tear)
About New Life Cardio Equipment™ is a verified liquidator for cardio equipment manufacturers. Our inventory consists of name-brand cardio equipment such as NordicTrack and Pro-Form. To ensure our customers get their products in working perfect conditions, our technicians assemble them and conduct rigorous testing to assure they meet the highest quality standards. They are then ready to sell, in perfect working condition, which then is labeled as "seconds" to verify transparency to our customers. "Seconds" is an identification factor that helps the manufacturers identify the returned product. The reason that they are labeled as "seconds", being, that they are no longer considered "new" due to the external packaging being damaged and slight cosmetic scratches. With this, you save up to 50% off the manufacturer's original retail price!
---
Interactive Training Sessions
iFit trainers move your transformation forward by interacting with and controlling the Studio Bike Pro 22's resistance.
Streaming Global and Studio Class Workouts
See the world while you cycle through cities, trails, and studio classes, all while being led by a personal trainer in your home.
Connected Fitness Training
Check your progress as every training session is automatically recorded and even used to influence future fitness plans.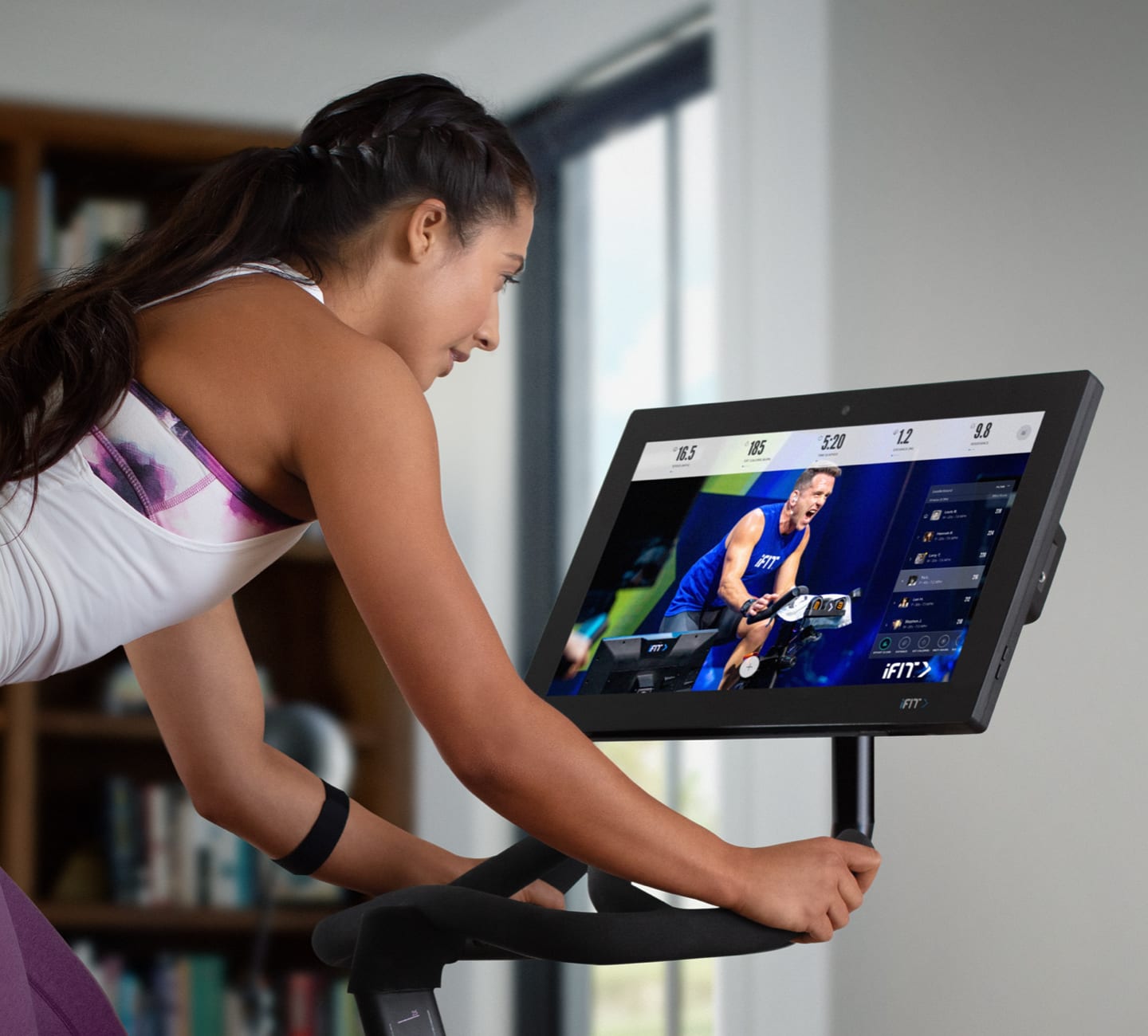 iFit is more than a membership
With the ProForm Studio Bike Pro 22, you can say goodbye to extra costs and inconvenience.
Home workouts mean less travel and more family time.
No need to show up to personal training sessions that cost a fortune and only last half an hour.
You gain back the time you need to cool down and relax after your workout.
No need to dress to impress. Wearing the same workout clothes as yesterday? We won't tell.
Stop tracking your stats manually. Your bike tracks your journey from the moment you start to the moment you've reached your goal.
The Perfect View — Both on and off the Bike
Interactive training means getting more than just a cycling experience. Now you can follow your trainer on a 22″ HD touchscreen through cross-training workouts both on and off your bike. The Studio Bike features a 180 degree pivoting screen with SmartSwivel™ Design so you can turn the screen in either direction, as well as tilt up or down, allowing you to follow your trainer from any angle.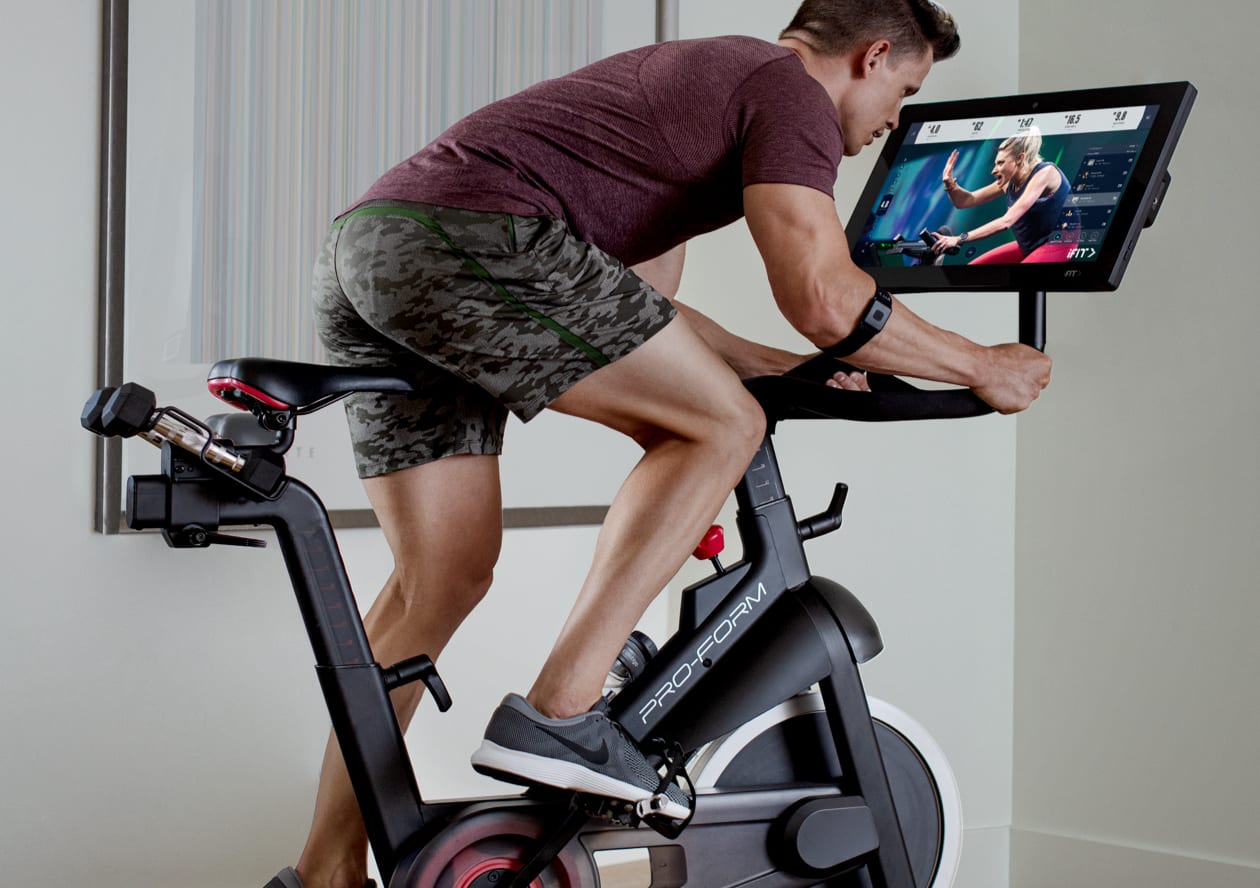 LIVE Interactive Training
Follow along with our personal trainers as they lead your workout and help you get results. With iFit's Live Resistance Control technology, your trainer takes control of the resistance on your bike to realistically match the terrain of the workout. When your trainer goes up a hill, you'll feel the burn.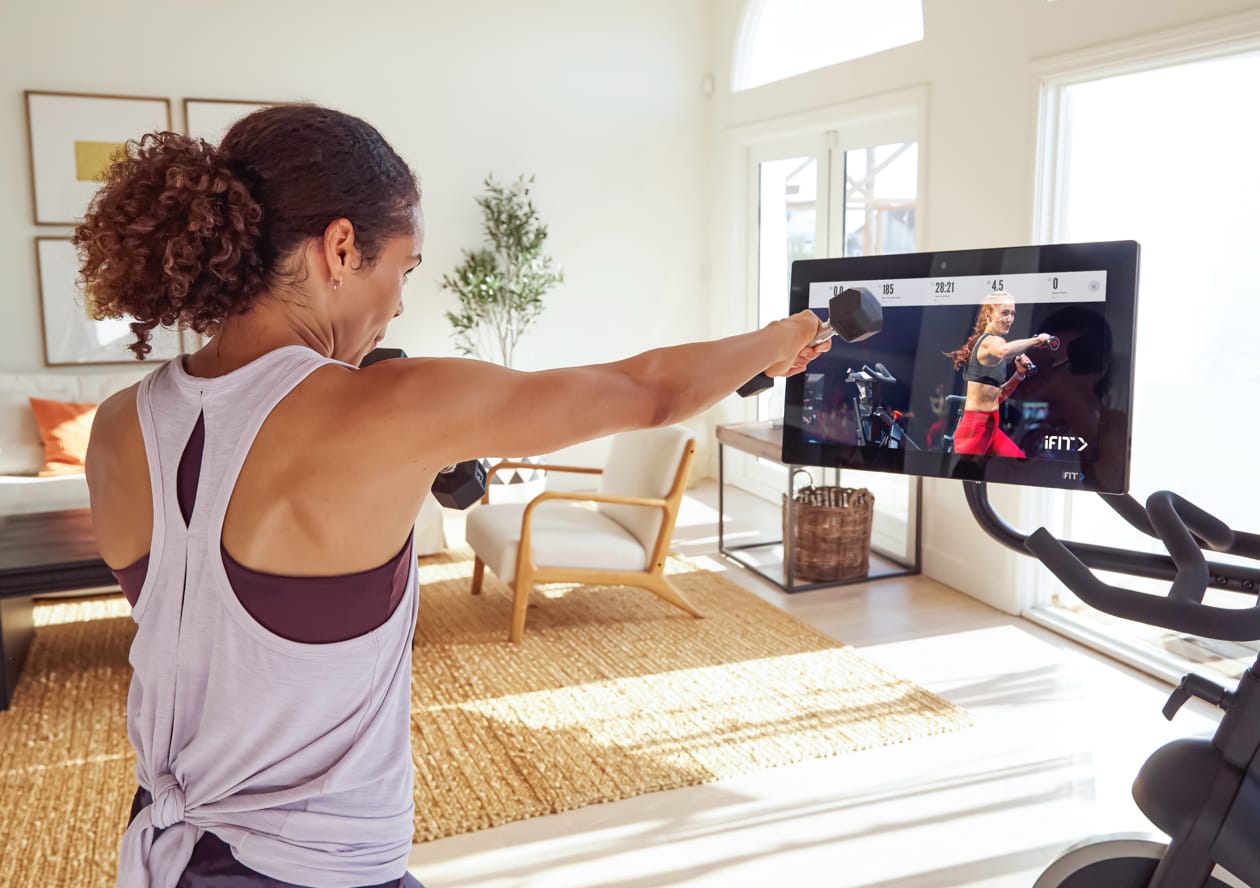 On-Demand Strength-Training with Included Hand Weights
This bike isn't just about getting a great leg workout. Two 3-pound dumbbells are included along with limitless strength-training and bodyweight exercises, so you can follow your trainer on and off your bike and experience an incredible total-body workout.
So Much More Than Cycling
Learn how to use your body as resistance to tone your muscles. Professional iFit trainers guide your form every step of the way to help you get stronger and avoid injury.
Recovery
Take your next yoga class in the peace and comfort of your home. Follow along with iFit's certified yoga instructors and choose from a variety of classes right at your fingertips.
Mindfulness
Let trainers help calm your mind and bring awareness to yourself. Practicing meditation can improve your physical health and abilities as well as your psychological health.
Take your next yoga class in the peacefulness of your home. Follow along with iFit's certified yoga instructors and choose from a variety of classes right at your fingertips.
Adjust to the Perfect Fit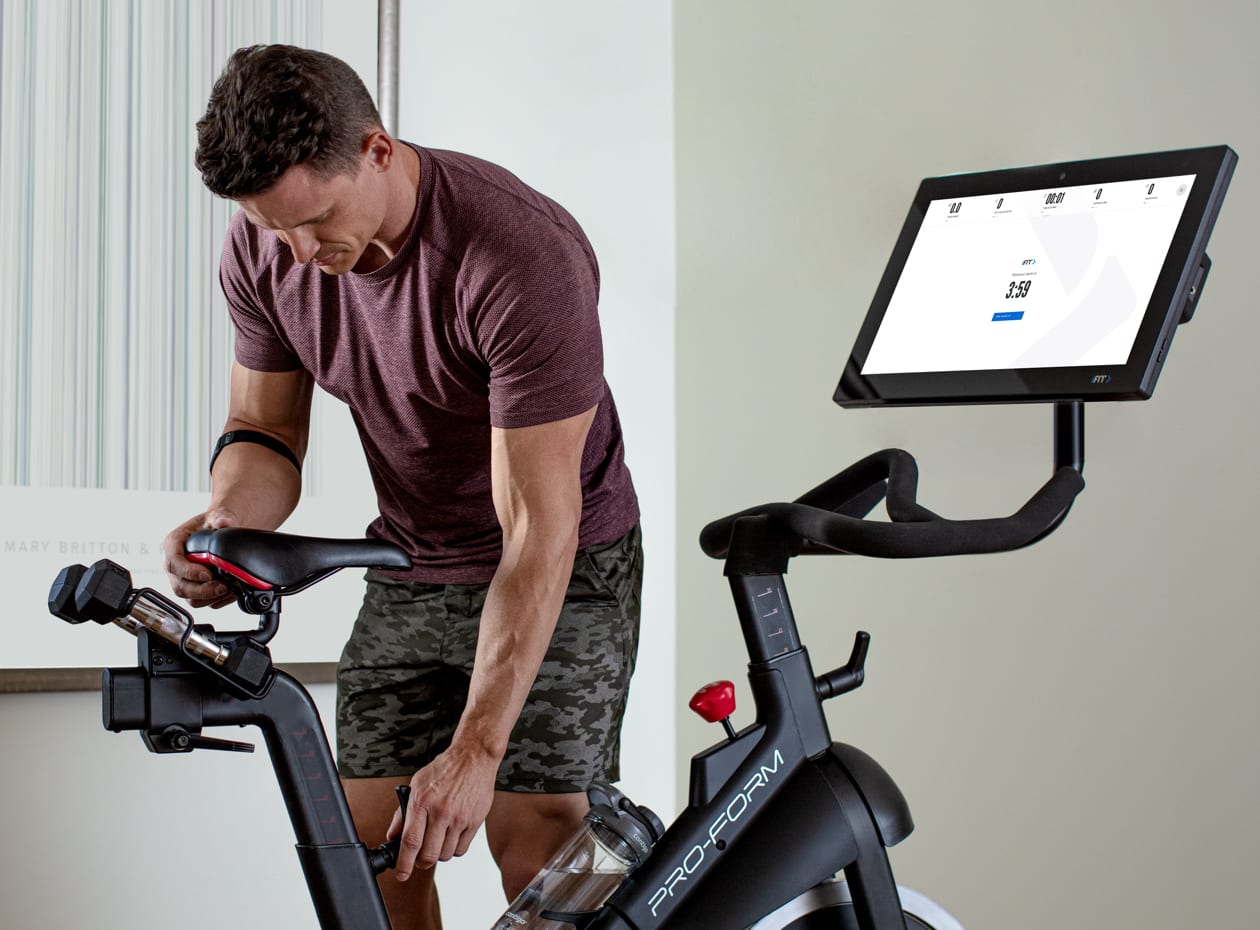 Interactive Training for All
We all come in different shapes and sizes, but cycling should be for everyone. We've engineered the ProForm Studio Bike Pro 22 to adjust to fit most user heights. Move the seat up, down, forward, or backward, and the handlebars up or down to find the right position for you.
Handlebars
Vertical Adjustability: 3.75" (5 positions) Stack
Seat
Vertical Adjustability: 9" Stack (10 positions)
Horizontal Adjustability: 3" Reach
Interchangeable
Pedals
Optional Toe Cages with Straps
Interchangeable
Silence Never Sounded So Good
Experience a smooth, frictionless, and silent ride with our patented SMR™ Silent Magnetic Resistance, allowing you to adjust your intensity without interrupting your workout or anyone around you.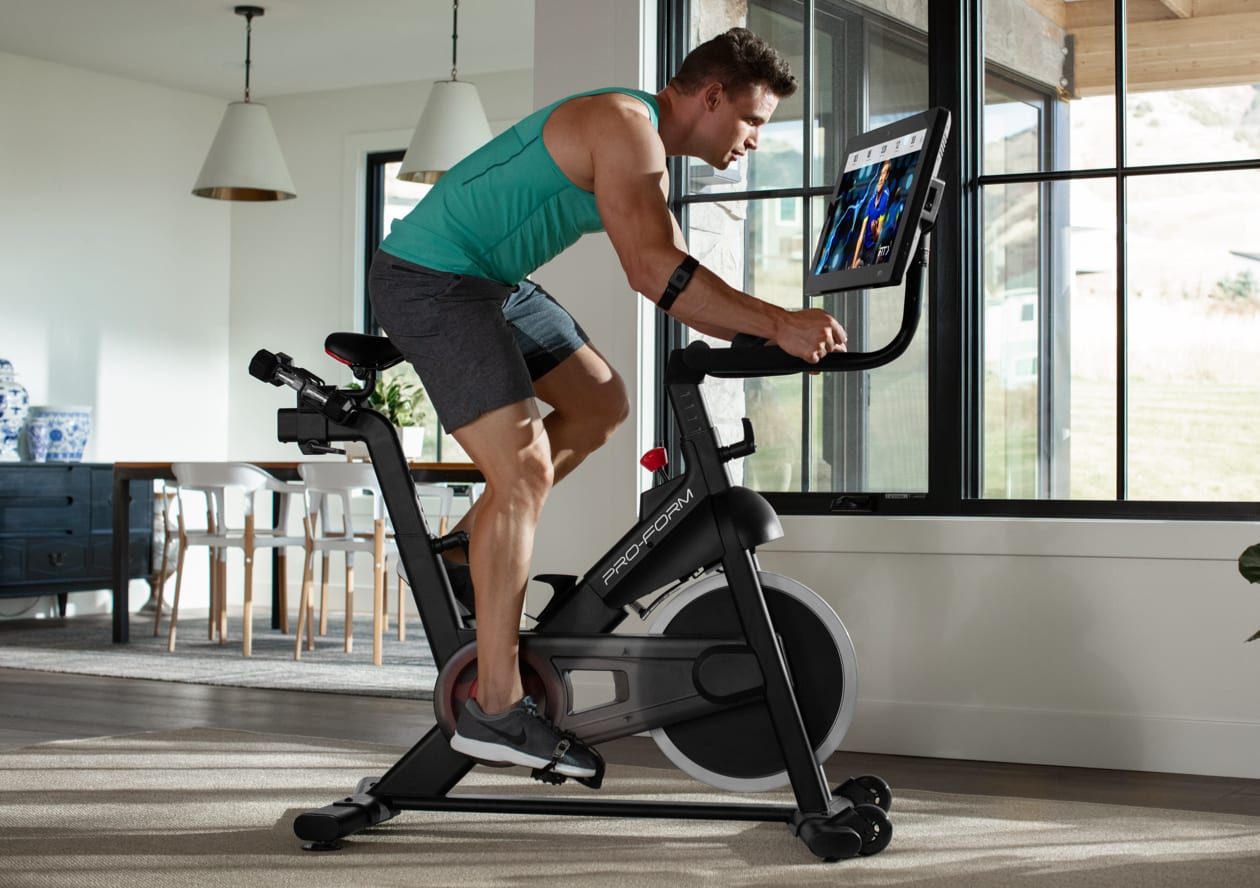 Built to Last and to Go Fast
Engineered and produced with high-quality welded steel and enhanced corrosion resistance, the ProForm Studio Bike Pro 22 lets you work out as hard as you want without losing any feeling of stability.
Roll with Ease
The ProForm Studio Bike Pro 22 was designed to quickly get you moving and to quickly get moved. Whether you're tight on space or just like to move things around a bit, the front-mounted transport wheels make it easy to reposition your bike if it's not in the right spot. Or simply move it completely out of the way when you're finished with your workout.
---
Tech Specs
22″ Smart HD Touchscreen Display with SmartSwivel™
Stay captivated and motivated as you follow along with your favorite trainers guiding your workout through beautiful scenery around the world or in the studio for a class. With this high-definition 22″ touchscreen, it's also easy to swipe through and view your workout stats.
Upright Frame with High-Quality Solid Steel Construction
Get a more intense workout with an upright exercise bike. Having the seat over the pedals recreates the feeling of a traditional road bike, giving you the ability to move more freely as you train. And being made from high-quality solid steel, this exercise bike is built to last.
24 Digital Levels of Resistance
With 24 digital levels of resistance, you can start out easy and progress to intense. Each level is smooth, frictionless, and silent with our patented SMR™ Silent Magnetic Resistance, which allows you to adjust your training intensity without interrupting your workout or anyone around you.
We've learned that the best fitness experience is all about the details. With the ProForm Studio Bike Pro 22, your training will be realistic, yet comfortable. Adjust the seat vertically and horizontally to find the perfect fit. For added customizability, you have the option to install your own, personal seat.
Multi-Position, Adjustable Handlebars
Ergonomically designed for comfort, the non-slip handlebars cut down on fatigue so you can ride longer. Plus, with the vertically adjustable handlebars, you can find your perfect fit.
Designed to keep your feet in place, these pedals are built with straps to increase stability.
Inertia-Enhanced Flywheel
Experience a smooth, steady pedal stroke with the flywheel made to perform. A faster gear ratio and effective weight placement deliver a more natural striding experience.
Plug-in to a better sound system. The included audio auxiliary port allows you to listen to your entertainment at a higher volume. Built with dual 2-inch speakers, you'll be able to hear your sound with less complication. Experts have learned that we actually increase or decrease our pace to match the tempo of our tunes. Plus, music has also been proven to lower perceived exertion. That's great news.
Stay hydrated throughout your workout by keeping your water bottle close. This convenient water bottle holder is built into the bike frame for easy access.
Front-Mounted Transport Wheels
Moving this bike out of the way is fast and easy with the front-mounted transport wheels.
Keep your bike stable on an uneven surface with these adjustable leveling feet.
21.9" Width x 56.5" Depth x 54" Height
144 Lb. In Box Product Weight